Goa the land of beaches is the paradise for tourist Goa is famous for its beaches, ancient temples and churches, and the Goan carnival. A place to chill out of today's hectic life it is a perfect place for vacation. Play around beaches, enjoy the cool and refreshing breezes, shopping, bars, casinos all the amenities that makes you trip enjoyable are present in this beautiful and exotic place situated in south west of India. This Package of 8 days will take you to the famous beaches of Goa and will let you know about the goan culture.
Duration : 7 Nights – 8 Days
Destinations Covered : Mumbai – Goa – Mumbai
Tour Itinerary
Day 01: Arrival in Mumbai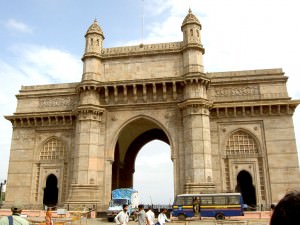 As you arrive in Mumbai, our company representative will receive you with great warmth. After completing the formalities, you will head straight towards the hotel along with our representative. As this might be very well your first visit to Mumbai, our representative will brief you about the city and its highlights en-route.Reach the hotel and check in your room. After a long journey, it is time to relax. Take a refreshing bath and have your meal. Thereafter, relax in a way that suits you best. Either watch a television show, listen to a melodious tune or just go off to sleep. The last one is perhaps the best way to drain away the exhaustion from your body but even music has a magical effect on a tired soul. Just pick your choice.Even, the rest of the day is free for you. You can either go on your own and discover the nearby places or stay inside in your room. Stay overnight in Mumbai.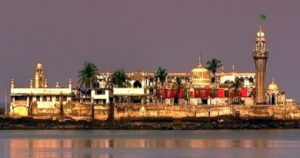 Day 02: Mumbai – Explore The City of Dreams
Mumbai is a city of dreams. Before proceeding to Goa, you will go around and enjoy some of the most famous attractions of the city. So have your breakfast and set out for an exciting day. Your first stop will be the Gateway of India. This Gateway was constructed to mark the historic visit of King George V and Queen Mary in 1911. Admire the huge gateway and find out more about its architecture. The gateway is also a starting point to visit the Elephanta caves. From the Gateway itself, ferries will take you to the famous caves. If you want to explore the caves, catch a ferry leaving at that time. Alternatively, take a short trip in the sea water and move to your next destination (remember you just have a day to explore Mumbai). You will next pay a visit to two of the most famous religious destination in the city. The first one is the Mahalaxmi Temple and the second one is the Dargah of Haji Ali. Both these places of worship are close by and makes for an easy quick visit. The Mahalaxmi temple is dedicated to the Goddess of wealth while the Dargah marks the place where the casket of the respected saint, Haji Ali floated to after his death in Mecca. In the evening, visit the nearby market place and shop for some ethnic Indian goods. Return to your hotel and stay overnight.
Day 03: Mumbai – Goa
Get up early today and leave Mumbai for Goa sightseeing tour. You will cover a distance of more than 500 km before you reach the northern part of Goa. On reaching, transfer to your hotel and relax. Have a sumptuous meal and energize your body. After all, the most exciting part of journey is just about to begin and you just cannot afford to miss even a single moment because of weariness. Goa is a place where even the most reserved of the person sheds his usual reticence and mingles freely. It is a place where you will love to enjoy yourself. The beaches, specially are the highlights of this small Indian state and hold out a promise to entertain you thoroughly during your tour. Evening today is free for you to explore the nearby area on foot. Go around and get a feel of life in Goa. Stop by at the shops and scan through various items that they keep – food, clothes, household items etc. Later return to the hotel and have your dinner. Stay overnight in Goa.
Day 04: Vagator – Anjuna – Relax On The Sun Kissed Beaches
Today, you will spend a lot of time exploring the beaches of north Goa. Actually, it is mostly the north Goa beaches that have made the state so famous. So have your breakfast and set out to your very first beach destination, Vagator. This is just perfect if you want a quiet start because despite a large number of people visiting it, the beach has a tranquil feel. If you are one of those who just want lots of activities, then try climbing the Chapora Fort. An 18th century fort built to serve the defensive purpose for Bardez is not easy to climb. Undertake this piece of adventure activity only if you are physically fit completely. Once atop the fort, the view of surrounding areas will impress you immensely.Once, back to the beach, rest for a while and try out some sea food from the beachside shacks. Discover the two freshwater springs of the Vagator beach, at both the north and south end.

Anjuna beach is your next destination of the Goa sightseeing itinerary. This one lies south of the Vagator beach and is perhaps, without doubt, the most happening beach of Goa. Venue for the rave full moonlight parties, this beach was discovered by a group of travellers in the middle of the 20th century. There is no dearth of places to eat at the Anjuna beach. So just go around a little bit and find out a place where you can sit comfortably and enjoy the taste of the seafood and a picturesque view of setting sun simultaneously. If you are in a mood of enjoying a bit of swimming, just hold back yourself because Anjuna is not considered safe for this activity. Instead, what you can do is to enjoy a bit of nightlife here. Quiet a few bars are open till late in the night and ensure that you spend a pretty lively night even when there is no beach party to enliven the atmosphere. And if you are visiting during the year end, then you sure do know that the beach party is the place where you should be, dancing to the tunes of Goa Trance Music.
Day 05 : Calangute – Candolim – Enjoy Moon Light Parties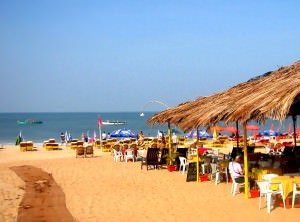 Today, you will visit the Baga-Calangute-Candolim beach stretch two of the most exotic Goa beaches . This stretch is supposedly the hub for all tourists because of the range of activities available – from sightseeing to adventure. So have your breakfast and arrive at the Calangute beach. There are around a dozen of water sports operators here. With their help and services, enjoy anyone of the following – parasailing, water skiing, banana and bump rides and also wind surfing. Alternatively, you can also set out for a dolphin or crocodile spotting tour, island trips, fishing expedition and river cruises. Enjoy the seafood at the beach and rest for a while. See the waves hitting the shore and try to build sand castle. Just check out how much of that child like enthusiasm and joy you still retain after you have finished. Later move to the Candolim beach and examine this part of the stretch. Wander around freely for sometime and soak in the wonderful feeling of spending so much time away from your regular hectic schedule. Also pay a visit to the nearby sightseeing attractions – Fort Aguada, Chapel of St Lawrence and Candolim Church. The first of the fort is situated atop a plateau from where the surrounding area views are just magnificent. You see the entire area and people moving on as usual while you stand quietly and take note of them. If interested, you can check out a lifestyle store which houses a range of products – from studio pottery to furniture to conservation pieces. Pick up those small, easy to carry back items as a memory of your Goa trip.
Day 06: Panaji – Old Goa – Explore Goa Besides Beaches
Take a break from the beaches of Goa for a while and explore its other attractions. Know more about Goa's history, its cultural heritage and its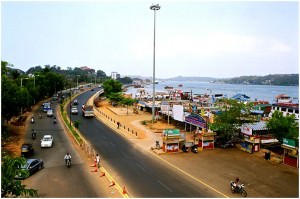 present lifestyle – this is what you are going to do today in Panaji and Old Goa. Start off by paying a visit to the churches of Old Goa, the former capital of the state. These churches are the legacy of around four and a half centuries rule of Portuguese in the state. Se Cathedral is the largest church is the entire Asian continent and honours St Catherine. Right opposite is the Basilica of Bom Jesus, the first one in India to get the status of a minor basilica. It preserves the remains of the patron saint of Goa, St Francis Xavier. Visit this church and hear an incredible story related to the saint. Next, bow your head in the Church & Convent of St Francis of Assisi as well as Church of Lady of Rosary. Apart from being religious places, these churches are also a very good example of the Renaissance, Baroque, Iberian and Manuline style of architecture. So if your are amongst those who like to examine the built up of a monument, then these churches are a sure delight for you. However, even if you are not so specifically interested in the architectural style, you will still love to give more than just a cursory glance. Moreover, the Church & Convent of St Francis of Assisi also houses an Archaeological Museum and Portrait Gallery. Visit this museum before you wind up your tour in Old Goa for the day. The museum exhibits a rich collection of middle and upper Paleolithic stone tools, Microliths and a few Neolithic Celts, excavated materials from Chandnor, copper coins and copper nails, rings from third century B.C etc. A huge statue of Alfonso de Albuquerque, a wooden statue of St. Peter, collection of Hindu deities and around sixty portraits of viceroys and governors of Goa will catch your fascination almost immediately. Move over to Panjim, the new capital of Goa and a destination projected quiet often as a place to be if you love to walk around freely on your own. It also has quiet a lot of historical heritage in store like the area of Fontainhas with the St Sebastian Chapel. Have a look at the crucifix here which was earlier placed in the Palace of Inquisition. Evening, watch the sun set from aboard the cruise boat of Santa Monica. Listen to the music played by the live band on board while the boat floats down the Mandovi river.
Day 07: Colva & Palolem Beach
Your last day in Goa will be spent exploring the southern beaches of the state. Colva beach, your first destination, is wonderful if you want to relax and catch up with some reading. Just enjoy lazing around, stretching your hands in whichever direction you like. If you wish to enjoy a bit of water sports, then there are options of jet skiing and speed boat rides as well. Also, pay a visit to the Nossa Senhora de Merces (Our Lady of Mercy) Church. Move further and reach the southern most beach of Goa – Palolem. Considered one of the most beautiful beaches of Goa, Palolem is also good for relaxing and enjoying a bit of water sports in form of canoe rides and dolphin spotting trips. Roam around freely on the beach and try out the seafood at the palm thatch and grass hut. Evening is free to do whatever you want to. Go around, shop for Goan goods or simply check out at the nearby attractions.
Overnight in Goa.
Day 08: Departure
Morning, pack your bags and leave back for Mumbai. From there, catch a flight back to your home with sweet memories of your Goan beach tour.
For More Info: http://www.indialine.com/travel/tours/tour11.html