Northern India – Jungle Safari: Ranthambhore National Park for 3 days at $717 from yampu
Price –  $717
Days of Week the Trip can Start: Monday, Tuesday, Wednesday, Thursday, Friday, Saturday, Sunday
Duration – 3 days
Northern India is well known and has one of the largest national parks. Ranthambhore is situated in Southeastern Rajasthan. It is one of the best locations in India to see majestic tigers in their wild habitat, it is also a famous heritage site because of its ancient ruins that are scattered throughout the park.Safaris through the park will be on the basis of sharing a guided, open-top Jeep. Besides the famous tigers, the park is also home to numerous other large animals, including leopards, hyenas and sloth bears to name a few. Dotted throughout the park, picturesque ruins can also be seen there, lake palaces, old fortifications and the charming Jogi Mahal.The best time to visit the National Park is between October and April. It is also important to note that the park is closed during the monsoon season, from July – September.
Price Includes:
 One way domestic airfare from New Delhi to Jaipur
One way ground transfer from Jaipur to Ranthambhore in deluxe air conditioned vehicle
One way train fare in air conditioned car for transfer from Ranthambhore to New Delhi.
All accommodations with two days of breakfast, lunch, and dinner
3 Park visits at Ranthambhore using non air conditioned open Jeep (on sharing basis)
All currently applicable entrance fees at the monuments. Camera fees will be extra.
All current taxes and entrance fees.
Itinerary:
Day 1: Day flight from New Delhi to Jaipur. Upon arrival you will be met by your guide and transferred to Ranthambhore National Park. This is approximately a 3-4 hour drive. After arriving, enjoy a lunch before beginning your jungle safari. The tigers in the park can be spotted quite often during the day, whether they are hunting, taking care of their young or just lounging. Return to your hotel to enjoy dinner and spend the evening at leisure.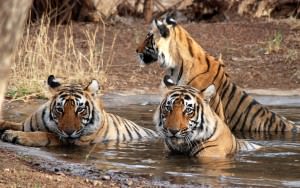 Day 2: In the early morning, you will enjoy another park visit to see the tigers once more and possibly some other resident wildlife. Besides tigers, other wildlife in the park include the endangered caracal, the leopard and jungle cat, hyenas, foxes, jackals, the sloth bear and several varieties of deer and antelope. Drive back to the hotel for lunch before returning for a final afternoon in the park. Return to your hotel to enjoy dinner and spend the evening at leisure.

Day 3: Awake early for one final breakfast before transferring to the railway station. Here, you will board the Jan Shatabdi Express train back to Delhi for you flight home or continue with the Yampu Tours add-on of your choice.
Price Details:
Double – $717(3 star), $978(4-Star), $1117(5-Star), $2933(Deluxe)
Single – $1006(3 star),$1661(4-Star), $1804(5-Star), $4969(Deluxe)
Hotels Details:
3-star – Ranthambhore Bagh, or similar
4-star    Dev Vilas, or similar
5-star    Sawai Madhopur Taj Lodge, or similar
Deluxe    Oberoi Vanya Vilas, Aman-i-khas, or similar
Notes:
The park is closed during monsoon season from July through September
All travelers require a passport valid up to six months after their intended stay in India. While in India, passports are also required to have at least two blank pages.
For citizens of most countries including the US, Canada, Australia, New Zealand and members of the EU, an Indian visa is required to enter and exit India for any purpose. All visitors must apply for visas at an Indian Embassy or Consulate abroad before entering the country. Visas are not available upon arrival.
lthough yellow fever is not a disease risk in India, the government requires travelers arriving from countries with risk of yellow fever virus transmission to present proof of yellow fever vaccination. Besides this, there are no other vaccine requirements, although it is wise to be up to date on your routine inoculations. All travelers should consult their physician or a travel health clinic with plenty of time before their departure date.
For more information visit: yampu.com/en/trips/jungle-safari-ranthambhore-national-park/