On this Connoisseurs program, immerse yourself in the magnificent monuments of northern and central India
Tour Duration– 15 Days
Places to Visit– Mumbai- Udaipur- Jodhpur- Jaipur- Agra- Delhi- Cannada
Tour Itinerary
Days 1-2: USA or Canada/Mumbai, India
Depart on an overnight flight to Mumbai, India's commercial heart and home to glamorous Bollywood.
Day 3: Mumbai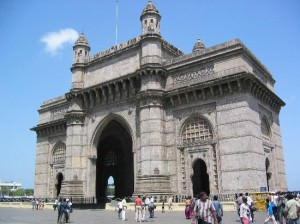 Arrive in Mumbai, a thriving metropolis where an ever-expanding skyline rises from streets brimming with cars, motorcycles and tuk-tuks, the city's ubiquitous three-wheeled taxis. After settling into your hotel, explore classic "Bombay" sights, including the Gateway of India, an 85-foot-high arch whose design reflects both India's Muslim and Hindu traditions. The open square in front of the gateway draws throngs of locals and visitors every day and is a great place to observe the city's fascinating pulse. Visit the Dhobi Ghat, the largest open-air laundromat in the world and a sight to behold as hundreds of men and women hand-wash sheets and garments. End a day of perfect introductions to India with a welcome dinner alongside fellow travellers.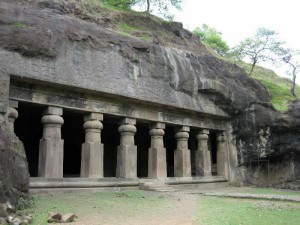 Day 4: Mumbai/Udaipur
Privately cruise Mumbai Harbour to Elephanta Island, a UNESCO World Heritage Site. Explore the island's world-renowned temples, which are carved directly out of the basalt rock and filled with ornamental statues, pillars and friezes dedicated to the Hindu god Shiva. Most spectacular is the Trimurti, a towering bust of a three-headed Shiva depicting the three aspects of Hindu cosmology: creation, preservation and destruction. Later, fly to Udaipur and check in to your exquisite resort. Where Mumbai dazzles with its lively blend of colonial and contemporary culture, Udaipur enchants with its own distinct, stately serenity.
Day 5: Udaipur
This morning, take in the charms and sights of Udaipur, a city of pristine white buildings along the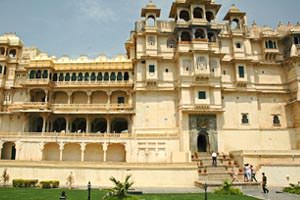 banks of Lake Pichola. Visit the City Palace, a stunning marble edifice that is actually a complex of palaces and galleries that offer unforgettable views of the lake and its surroundings. Take a private tour of the Crystal Gallery in Fateh Prakesh Palace, a small enclave stuffed with crystal-encrusted furnishings and decorations, and stroll through Sahelion Ki Bari (Garden of the Maids of Honor). Your afternoon is free to enjoy the amenities of your award-winning resort — perhaps book a spa treatment or venture to the lagoon for a yoga session in the pagoda. Tonight, enjoy an exclusive cocktail party on Lake Pichola, taking in the magnificent views of the City and Jag Mandir palaces, their twinkling lights reflected in the water.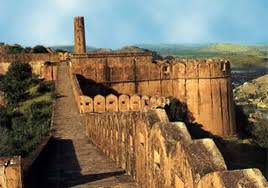 Day 6: Udaipur
Set off for the temples of Eklingji and Nagda in the Aravalli Hills. Wander amid Eklingji's elaborately crafted shrines — 108 of them are scattered in the sprawling temple grounds — and leave an offering of flowers on the altar of the main temple. Afterward, enjoy lunch at Devi Garh, a fort-palace hotel set high in the picturesque countryside. Back in Udaipur, take a private cruise (water levels permitting) to Jag Mandir, a palace of splendidly carved marble on an island in the middle of Lake Pichola.
Day 7: Udaipur/Ranakpur/Jodhpur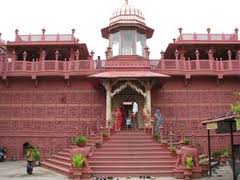 Drive through the Indian countryside to the Jain pilgrimage center of Ranakpur. Its white marble temple is supported by more than 1,444 exquisitely detailed pillars. After lunch, continue to Jodhpur, once the capital of the former princely state of Marwar and known as the "blue city" for its clusters of blue houses.
Day 8: Jodhpur
Your morning is at leisure to enjoy your hotel's amenities, or tour the in-house museum with the curator. This afternoon, visit the city's main sites, including the Mehrangarh Fort, a vast complex perched high on a hill and which affords panoramic views of Jodhpur's distinctive blue-painted houses. Also visit Jaswant Thada, a 19th-century cenotaph of delicate polished marble.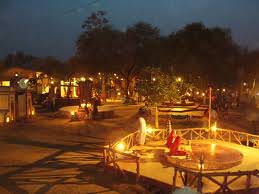 Day 9: Jodhpur/Jaipur
This morning drive to Jaipur, the "Pink City of Rajasthan", known as the "pink city" for the abundance of pink plastered stone used for its massive forts, magnificent palaces and exquisite temples. The journey lasts about 6 hours and a packed lunch will be provided. Arrive at your stunning resort, where a welcome ceremony is carried out in your honor at the Lord Shiva temple. Tonight, join your fellow travellers for traditional entertainment on the lawn, followed by a Rajasthani dinner.
Day 10: Jaipur
Explore the Amber Fort, among the best hilltop forts in India. Its dramatic Mughal-style façade of white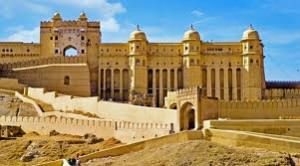 marble and red sandstone seems to grow out of the rugged hills. Not to be missed is the Palace of Mirrors, originally built as the royal family's private residence, which is covered with countless inlaid mirrors in intricate, mosaic-like patterns. Afterward, head to a nearby village for an elephant ride through the peaceful countryside. A mahout (elephant trainer) handles the reins while you sit back and enjoy a pleasant trek through the grasslands, followed by lunch. Then visit Jantar Mantar, a large open-air array of astronomical instruments that includes the world's largest sundial — it stands nearly 90 feet high. Nearby, view the Palace of the Winds, the high sandstone facade whose ornately screened windows allowed the women of the palace to gaze out unobserved.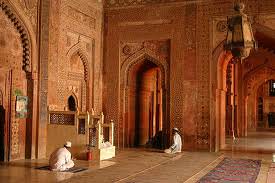 Day 11: Jaipur/Agra
Travel through rural India, stopping for the occasional herd of camel before arriving at Fatehpur Sikri. Built by Emperor Akbar as his palace in the 16th century and then later abandoned, "ruined" Fatehpur Sikri is a fairy-tale ghost city of delicately carved red sandstone, so remakably pristine that it seems to have stopped in time. Continue to Agra and your luxury hotel, catching your first glimpse of the fabled Taj Mahal from your room's large picture window.
Day 12: Agra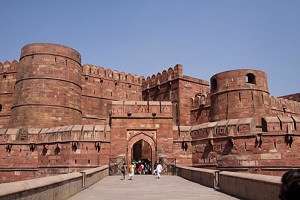 Today, visit two UNESCO World Heritage Sites: Agra Fort and the immortal Taj Mahal. Flawless in its proportions and breathtaking in its beauty, Taj Mahal looks as though it were painted onto the sky itself — a vision of unrivalled magnificence. Pay your first visit this morning, when the rising sun lends a warm pink tint to its marble face. Explore the monument up close, taking time to appreciate the delicate pietra dura (inlaid stonework) of the interior, before continuing to Agra Fort. Built of red sandstone and marble, Agra Fort presents a formidable exterior and a surprisingly graceful interior. Return to the Taj Mahal in the late afternoon, as the setting sun bathes the monument in soft orange.
Day 13: Agra/Delhi
Travel to Delhi, stopping en route at Sikandra, the tomb of the Mughal Emperor Akbar. Tonight, celebrate an end to your journey with fellow travellers over cocktails and a farewell dinner.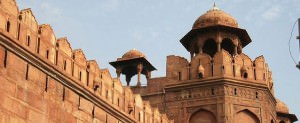 Day 14: Delhi
Your final day introduces you to both Old and New Delhi. View the awe-inspiring Red Fort, another crowning architectural achievement of Shah Jahan, builder of the Taj Mahal. Pause at Gandhi's memorial on the banks of the Yamuna River, and then visit Humayun's Tomb, a Mughal complex whose symmetrical designs prefigured the Taj Mahal.
Day 15: Delhi/USA or Canada
Board your homebound flight.
Pricing of Package
| | | |
| --- | --- | --- |
| Price | Single Supplement | Internal Air |
| $8,200 | $2,810 | $380 |
For more Info-http://www.abercrombiekent.com/travel/?fuseaction=dsp_dates&tid=5276