Shimla, Jalori pass and Manali are situated in Himachal Pradesh State of India. These are some India's most beautiful places to travel in. Surrounded by majestic snow capped Himalayan Ranges they present breathtaking views. Shimla and Manali are also tourist hot spot destination as a hill station with lush green surroundings and beautiful rivers and landscapes is what make these places worth of it. This tour is going to be unforgettable tour to adventure.
 Duration: 09 Nights / 10 Days
Places to Visit: Shimla – Narkanda – Kumar Sain – Luhari – Anni – Chowai – Takrasi – Khanag – Soja – Banjar –
Manali
Tour Itinerary
Day-01 :
Shimla (2205 mts.)- Narkanda (2708 mts.) by jeep
Day-02 :
Narkanda- Kumar Sain (1655 mts.) 16 Kms, descending through forests, apple orchards and fields, beautiful panoramic view of Kullu Saraj range
Day-03 :
Kumarsain- Luhri (792 mts.) 16 kms., descending through lush green fields and orchards and walking along the banks of river Satluj
Day-04 :
Luhari- Anni (1240 mts.) 18 kms. , gradual climb upto Anni
Day-05 :
Anni- Chowai – 14 kms., gradual climb in the beginning – steep climb to Chowai.
Day-06 :
Chowai- Takrasi (2250 mts.) –15 kms. Walking through villages
Day-07 :
Takrasi- Khanag (2530 mts.) –16 kms. , good trek with view o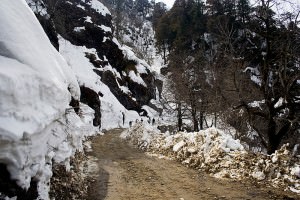 f hills and villages of Outer Saraj
Day-08 :
Khanag- Soja (2683 mts.)- 14 kms. , trek over the famous Jalori Pass (3223 mts.) breath taking view and scenic spots with small mountain lake
Day-09 :
Soja- Banjar (1524 mts.) 15 kms, Descending to Jibhi and walking through Banjar valley Village
Day-10 :
Banjar- Manali (2050 mts.) , by jeep
For More Info: http://www.adventure-india.com/shimla-manali-trek.html