Ladakh is a mountainous region in northwest Jammu and Kashmir in north India. Ladakh is not only home to some of the most beautiful and serene monasteries you'll ever see, but it also a land of rich natural beauty – and it's this natural beauty that hits you so hard, because it's a barren beauty. Ladakh is situated at a height of 3505 meters above the sea level and has beautiful landscapes. Trekking in Ladakh is an awesome experience, this 19 days tour will take you to the heart of Ladakh.
Duration: 18 Nights / 19 Days
Places to Visit: Delhi – Leh – Shey – Alchi Gompa – Chiling – Bakhula – Nyarak – Sarakdo – Zanskar – Zangla – Manali – Kullu – Delhi
Tour Itinerary
Day 01:
Arrival in Delhi. Transfer to Hotel there.
Day 02:
Morning flight to Leh.
Day 03:
Tour of Leh city, including the sixteenth-century palace and Gompa.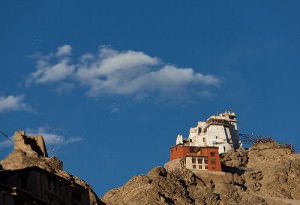 Day 04:
Tour of Shey and Tikse gompas, and Stok Palace.
Day 05:
Visit to Basgo fort and Alchi gompa, a remarkably well preserved 11th -century gompa and one of the artistic treasures of the Himalaya.
Day 06:
Drive to village of Chiling, from where we begin the trek. A short ways from Chiling we step onto the frozen Zanskar river for the first time. Trek to Tilat Do. Overnight in cave.
Day 07:
Walk upstream on the ice to Bakhula. Overnight in cave.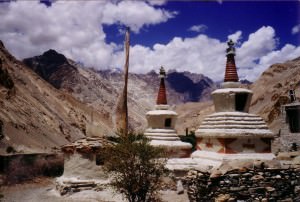 Day 08:
Walk through tremendous canyons, inaccessible in any other season, to Nyarak. Overnight in cave.
Day 09:
Continue on the frozen river to Sarakdo. Overnight in cave.
Day 10:
Walk to Hanuma, the first village and most likely the first people we have seen since leaving Chiling. Overnight in village house.
Day 11:
Hanuma to Pishu, another small village. Overnight in village house.
Day 12:
Pishu to Karsha, site of the largest monastery in Zanskar. Overnight in village house.
Day 13:
Karsha to Padum, the regional capital of Zanskar and the goal of our journey. Losar(Tibetan New Year's) celebration.
Day 14:
Rest day to explore Padum and the surrounding valley.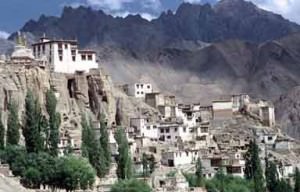 Day 15:
Visit to local villages and Gompas, including the kingdom of Zangla.
Day 16:
Helicopter over the main Himalaya range to Manali. A spectacular one-hour ride flying over the main Himalaya range.
Day 17:
Tour of Manali. Stay overnight at Hotel.
Day 19:
Depart-Delhi, Transfer to airport for flight to onwards journey.
For More Info: http://www.adventure-india.com/trekking-in-ladakh.html