The unique craftsmanship of Nagaland has always fascinated tourists from across the globe. On this week long tour to Nagaland, get to explore the tribes and their excellent hand work, that speak for their culture and tradition.
Tour Itinerary
Day 1: Kolkata
In the morning transfer to the airport for the flight to Kolkata. Upon arrival, meet a Travelmasti representative and transfer to the hotel.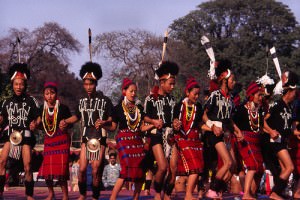 Day 2: Kolkata – Dibrugarh (by air) – Mon
In the early morning, drive to the airport for the flight to Dibrugarh. Upon arrival, meet and assistance by Travelmasti representative and drive to Mon. It is interesting to see the tattoos covered faces of people wearing feathered headgears and traditional dress. Here you can find excellent wood carvings, daos (Machetes), guns, gunpowder, headgears etc. Overnight stay in tourist lodge.
Day 3: Mon


In the morning visit typical Konyak tribal village, Shangnyu. There is a wonderful wooden monument measuring 8 feet. in height and 12 feet. breadth which is believed to be constructed by heavenly angels. The carvings of human beings and other creatures are engraved on this monument. You can also visit the Konyak Murungs, where one can still see the collection of human skulls.
Day 4: Mon – Mokokchung
Today drive to Mokokchung- the cultural centre of the AO Nagas. In the evening stay in the circuit house.
Day 5: Mokokchung – Kohima (about 180 kms.)
This morning drive to Kohima-the capital of Nagaland and the hill station. In the evening reach Kohima and stay in the hotel.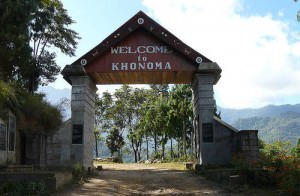 Day 6: Kohima
Today visit the Khonoma, an Angami tribal village, about 20 kms. towards the west of Kohima. In Kohima, visit the War Cemetry, the state Museum treasures rare collection of articles of different tribes which speak about the history and tradition of the Nagas and later visit the local market.
Day 7: Kohima – Dimapur (about 74 kms.) – Kolkata
Today, drive to Dimapur airport to take the flight to Kolkata.
Pricing
INR 25,500 Per person
For More Info : http://www.travelmasti.com/Explore-the-Glorious-Nagaland-Tour.html