Place to visit– Delhi – Agra – Jaipur – Delhi
Duration– 07 Nights / 08 Days
Tour Itinerary
Day 01 / Arrival Delhi
Arrive Delhi, meet assist at the airport & transfer to hotel. Night stay in Delhi.
Day 02 / Delhi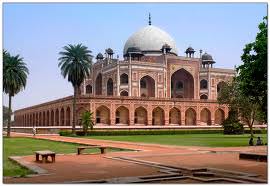 After breakfast proceed for sightseeing tour of Old & New Delhi :
NEW DELHI – An extensive sight-seeing tour of New Delhi would include a visit to the Humayun's Tomb, the Qutub Minar, a drive along the ceremonial avenue – Rajpath, past the imposing India Gate, Parliament House, the President's Residence and would end with a drive through the Diplomatic Enclave.
OLD DELHI – A sight-seeing tour of Old Delhi would entail visiting the Raj Ghat – the memorial site where Mahatma Gandhi was cremated; Jama Masjid – the largest mosque in India. Explore the ancient bazaar at Chandni Chowk including a rickshaw ride through its crowded, narrow alleys. Later you will begin your culinary crusade at the Chor Bizzare. By the evening enjoy classical dance program me. Night stay in Delhi.
Day 03 / Delhi – Jaipur (By air-conditioned train Dep 0610 Hrs Arr 1040 Hrs )
Early morning pick up from hotel & transfer to railway station to board the super-fast air-conditioned train to Jaipur. Breakfast in the train. Arrive Jaipur and transfer to hotel. Later sight seeing tour of Jaipur covering: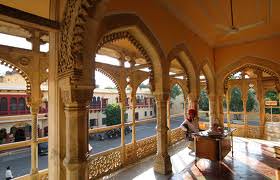 CITY PALACE – A delightful blend of Mughal and traditional Rajasthani architecture, the City Palace sprawls over one-seventh of the area in the walled city. It houses the Chandra Mahal, Shri Govind Dev Temple and the City Palace Museum.
JANTAR MANTAR – This is the largest and the best preserved of the five observatories built by Jai Singh II in different parts of the country. This observatory consisting of outsized astronomical instruments is still in use.
HAWA MAHAL – The ornamental facade of this "Palace of Winds" is a prominent landmark in Jaipur. Their five-storey structures of sandstone plastered pink encrusted with fine trelliswork and elaborate balconies. The palace has 953 niches and windows. Built in 1799 by Pratap Singh, the Mahal was a royal grandstand for the palace women. Night stay in Jaipur.
Day 04 / Jaipur ( Evening An Exclusive Indian Culinary Experience at Indian Noble family whose ancestors we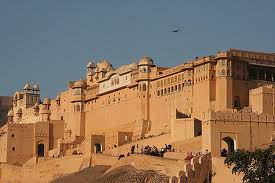 re ruling family )
After a relaxed breakfast proceed for a morning excursion to Amber Fort. Elephant ride ascent to the fort.
AMBER FORT PALACE – Amber is the classic romantic Rajasthani fort palace. Its construction was started by Man Singh I in 1592, and completed by his descendent Jai Singh I. Its forbidding exterior belies an inner paradise where a beautiful fusion of Mughal and Hindu styles finds it's ultimate expression. Later in the evening get a session of "Authentic Indian Popular Dishes Cooking Classes" in one Noble family whose ancestors were ruling family Chandrawats migrated from Chittorgarh. This Noble family is staying in their historical Haveli – The building of Haveli still being maintained in the original arctecture, which has got 7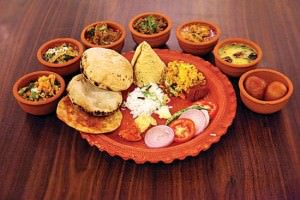 terrace 3 open courtyards over looking the building. Rooms in this Haveli is painted with real gold and walls of the Mahal has double glass wall which makes the room sound proof, with small collection of family guns. The Indian cuisine is as diverse as its culture, languages, regions and its climate. All classes will feature an entire meal from "Appetizers to Dessert" and feature "hands-on recipes". So bring your appetite and enthusiasm for a day of fun and enchantment. Learn easy delicious recipes and later enjoy dinner with this Noble family whose ancestors were once the ruling family Chandrawats and listen the then history of the ruling familes. Later come back to hotel. Night stay in Jaipur.
Day 05 / Jaipur – Day excursion to Samode

After breakfast proceed for excursion to Samode. ( 42 kilometer from Jaipur). This is small and beautiful village of Samode, famous for its fort and haveli. On the tour to Samode enjoy camel cart ride. It is good way to explore the village and enjoy its colors and unique customs. On the way enchant with the people of Samode, who are known for their warm and affectionate nature. The guides take you through the historical lanes of Samode giving you the best insights of the forts and palaces. The tourists guide entertain you with the various stories of the royal past on the way. Later come back to Jaipur. Night stay in Jaipur.
Day 06 / Jaipur – Agra (By Car Approx 05 Hrs)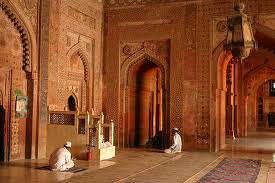 After breakfast drive to Agra enroute visiting Fatehpur Sikri-The deserted, red Sandstone City, Emperor Akbar built that as his capital and palace in the late 16th century is an exhilarating experience. It a veritable fairytale city and its "ruins" are in pristine condition … it's not hard to imagine what the court life must have been like in the days of its grandeur. Also visit the Bulund Darwaza, the largest gateway in the world. Continue drive to Agra and transfer to hotel. Evening free to explore the rich handicrafts of Agra. Night stay in Agra.
Day 07 / Agra – Delhi (By fast air-conditioned train Dep 2025 Hrs Arr 2230 Hrs)

Early morning at sunrise visit TAJ MAHAL- the fifth Mughal emperor, Shah Jahan, built it in 1631 in the memory of his second wife, Mumtaz Mahal, a Muslim Persian princess. She died while accompanying her husband in Behrampur in a campaign to crush a rebellion, after giving birth to their 14th child. Her death so crushed the emperor that all his hair and beard were said to have grown snow white in a few months. When Mumtaz Mahal was still alive, she extracted four promises from the emperor: first, that he build the Taj; second, that he should marry again; third, that he be kind to their children; and fourth, that he visit the tomb on her death anniversary. He kept the first and second promises. Construction began in 1631 and was completed in 22 years. Twenty thousand people were deployed to work on it. An Iranian architect designed it and it is best appreciated when the architecture and its adornments are linked to the passion that inspired it. It is a "symbol of eternal love".
Also visit Agra Fort-the rusty and majestic red-sandstone fort of Agra stands on the banks of the river Yamuna and the construction was started by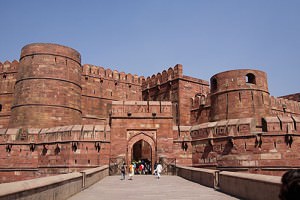 Emperor Akbar in 1566. At the Diwan-I-Am (hall of public audience), a colonnaded hall of red-sandstone with a throne alcove of inlaid marble at the back, the Emperor heard public petitions. At the Diwan-I-Khas (hall of private audience) where marble pavilions with floral inlays lend an ethereal ambience, the Emperor sat on his gem-studded Peacock Throne and met foreign ambassadors and rulers of friendly kingdoms. Late evening transfer to railway station to board the superfast airconditioned train to Delhi. Dinner in the train. Arrive Delhi and transfer to hotel. Night stay in Delhi.
Day 08 / Delhi – Departure
Transfer to airport to board the flight back to your home.
Pricing Inclusions and Exclusions
7 Nights accommodation as per the itinerary with daily Breakfast .
All transfers & sightseeing as per the itinerary by exclusive air-conditioned car.
Train tickets of Delhi – Jaipur & Agra – Delhi in air conditioned Chair Car.
Classical dance programme in Delhi.
Ricksharide in Delhi to explore the ancient bazaar at Chandni Chowk.
Camel cart ride at Samode village to explore this colour village.
In Jaipur exclusive Indian Culinary Experience at Indian Noble family and dinner in that Indian family.
Local English speaking Professional Guides.
Elephant ride in Jaipur. (subject to availability)
ll taxes, driver allowances, parking , fuel charges.
Does not include:
Entrance fee to the Monuments.
Any meals except breakfast other than specified in cost includes.
Cost of personal nature like beverages, Tips, Laundry etc.
Any item not shown in cost Includes
For More Info-http://www.myindiaholidays.co.uk/golden-triangle/goldentri-cooking.html