India offers adventure lover some of the best destinations for adventure places wether it is rafting, mountaneering, trekking or skiing. This tour will take you to the serenity of majestic Himalayas best place in the world for real Trekking.
Area– Himachal
Duration -21 Days
Altitude-5040/16535 Feets
Season-May- June and Sept-Oct
Tour Itinerary
Day 01: Arrive Delhi

Upon arrival at Delhi airport transfer to hotel for overnight stay.
Day 02: Delhi – Mcleodganj (2196 mts/7,200 ft)
In the morning half day city sight seeing tour and afternoon transfer to New Delhi Rly. Station to board Shalimar express train at 15:55 hrs. Dinner in pantry car.
Day 03: Arrive
Mcleodganj
Early morning arrive at Mcleodganj by 03:30 hrs. Enroute wash & change followed by breakfast, afternoon time at leisure to relax, evening a brief on the entire program and distribution of equipments, dinner & overnight in hotel.
Day 04: Mcleodganj – Truind (2994 mts/9818 ft.) 10 kms/3-4 hrs
Early breakfast – your trek begins towards Truind passing through Dhramkot. The trail to Truind is generally gentle except last few kms. Dinner & overnight in tents.
Day 05: Truind – Lahesh Cave (3598 mts/11800 ft) 9 kms/ 3-4 hrs

Post breakfast – This day the trail follows the ridge behind the prayer flags above the. The trail climbs generally through oak and conifer forest and across the open meadows to the encampment at Laka Got. The last 200 – 300 mts is tiring to Lahesh Cave. Dinner and overnight in tents.
Day 06: Lahesh Cave – Indrahar Pass (4375 mts/14,350 ft) – Chatru Parao (12 kms/6 -7 hrs)
Early morning breakfast. Commence uphill trek with packed lunch. At the higher elevations there is a a steep 300 – 400 m ascent towards the crest of the Dhaula Dhar, before a 1 Km traverse just below the ridge to the Indrahar Pass. From the pass one can view Pir Panjal Range in the north and Mani Mahesh Kailash (5656 M) peak in the east. Descend from the pass to Chatru Parao. Dinner & overnight in tents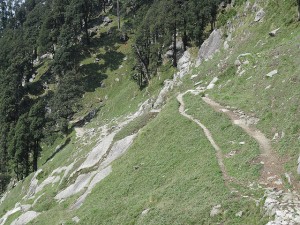 Day 07: Chatru Parao – Kuarsi (2747 mts/9010 ft) 15 kms/ 6 – 7 hrs
Start trek with packed lunch, the trail follows the true left of the valley for the first few kms. Later the trek crosses the valley on a permanent snow bridge and ascends steeply to an open meadow. Continue down the true right of the valley and after crossing a series of meadows finally descends to Kurasi. Dinner & overnight in tents.
Day 08: Kuarsi – Chanota Khas (2700 mts/8856 ft) 16 kms/6 hrs
The trek goes through thick forests and lush green fields. You come across many small places inhabited by Gaddi people. Dinner & overnight stay in camp.
Day 09: Chanota Khas – Garola (2600 mts/8528 ft) 12 kms/5 hrs
In the morning trek to Garola. The trail goes by the side of river Ravi. Dinner and overnight stay in tents.
Day 10: Garola – Brahmour (2200 mts/7216 ft) 14 kms/5 hrs
In the morning after breakfast trek to Brahmour. It's a beautiful village and is well connected to Chamba by roads. Stay in guest house is preferred.
Day 11: Brahmour – Hardsar

A narrow road leads you to Hadsar from Bharmaur, which is dangerous for cars and jeeps. It is advisable to go on foot. Hadsar is a small village with tea shops and few people living nearby. From Hadsar, one trail goes to famous Manimahesh Lake and other to Kugti village. Little down from Hadsar, there is a camping place in the forests.
Day 12: Hardsar – Kugti Village
Kugti is 13 kms from Hardsar. The trail is narrow. You should cross the narrow trail one by one. You also have to cross small wooden bridges over streams. Sometimes, the Buddal River becomes turbulent and causes de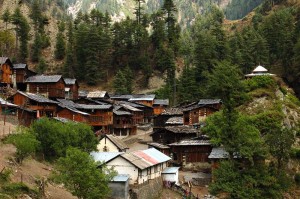 vastation. The Kugti village is inhabited by approximately 1000 people. Kugti village has shops and a Civil Dispensary. The people of the village belong to Gaddi tribal and are very helpful.
Day 13: Kugti Village – Kelang Temple
The Kelang temple is nearly 5 kms from Kugti village at the height of 3,200 meters. The temple is dedicated to the Bazir of Lord Shiva. Close to the temple is a place for night camping.
Day 14: Kelang Temple – Duggi
It is 6 hours walk from Kelang temple to Duggi through green pasture. The place is very close to the mountains from all sides so you should have some heavy clothes to face the chilly winds of the Pir Panjal range.
Day 15: Duggi – Lahesh Cave

Lehs Cave is situated at the bottom of Kugti pass. Sometimes it snows in the month of July here because of high altitude. Lahesh is surrounded by Pir Panjal and Manimahesh Dhar.
Day 16: Over Kugti Pass (5040 mts/116535 ft)
KhurluThe excitement and adventure reach to the peak when you cross Kugti pass. You should start early in the morning so thatyou can reach the pass before the sunrise. It takes about 4 hours to reach the pass. It is a steep climb up to the pass. Beyond the pass is a big glacier with some hidden and some open craves. You need good equipment and a trained guide to walk over this glacier. After 6 to 7 hours walk, you reach at the camping place called Khurlu. Remember that only an expert guide can locate the trail to Khurlu.
Day 17: Khurlu to Rapa (Lahaul Valley)
After 10 kms. walk from Khurlu, you reach the first village of Lahaul Valley. The trek involves a number of ridges crossing and glacier walking. The trail is not easy to locate because of rocky path and glacial moraine. Finally after crossing a small glacier, you reach Rapa Village for night stay.
Day 18: Rapa – Keylong
Keylong is 22 kms from Rapa village. After 3 hours walk, you reach the road head at Sansa. From Sansa it takes another 3 hours to reach Keylong by bus. Keylong is the districts headquarter of Lahaul and Spiti. There are some good hotels at Keylong. From Keylong, you can go to Leh or come back to Manali over Rohtang Pass.
Day 19: Keylong – Manali

In the morning after breakfast drive to Manali via Rohtang pass. On arrival transfer to hotel for relax. Dinner & overnight stay.
Day 20: Manali
Today we will do half day sight seeing at Manali and in the evening drive to Delhi by AC Volvo coach. Overnight journey.
Day 21: Delhi
Arrival at Delhi by morning. On arrival transfers to hotel for relax. In the evening drive to international airport to catch onwards flight.
Trip & services ends here
For More Info-http://www.peakadventuretour.com/kugti-pass-trek.html