Maharajas Express can carry a total of 84 passengers in elegantly appointed cabins which include a lavish presidential suite spanning over an entire carriage. There are 2 restaurants, a lounge bar equipped with library and souvenir shop to indulge the guests during their journeys. A royal journey on board Maharajas Express beckons the new breed of connoisseurs of luxury for unforgettable journey like no other to unravel the essence of "Incredible India".
Duration : 08 Nights/ 09 Days
Destination : Delhi, Agra, Gwalior, Khajuraho, Bandhavgarh, Varanasi, Delhi
Region : North India, Central India
Tour Itinerary
Day 01 : : Arrive Delhi
Arrival Delhi, as per your flight schedule pickup from New Delhi airport and transfer to hotel, day at your rest, Overnight stay at hotel.
Day 02 : : Delhi – Board the Maharaja's Express Train To Agra
Morning after breakfast, transfer to New Delhi Safdarjung Railway station, where you complete check in formalities as you enjoy a welcome drink and the 6 night epic journey begins. Enjoy a leisurely brunch on board as you journey through the picturesque countryside, arriving into the 'City of Mughal Splendour' Agra. Explore the spectacular monuments of the city. Visit the magnificent Agra Fort, an outsta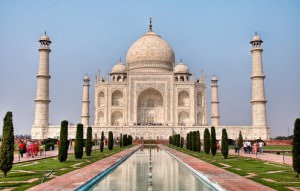 nding example of Mughal architecture and the seat and stronghold of the Mughal Empire under successive generations. Shah Jahan, the Taj's creator, was imprisoned by his son and spent last years of his life in the Fort. Proceed to the Taj Khema and enjoy a glass of champagne in the backdrop of the splendid Taj Mahal at sunset. Excellent shopping opportunities in Agra before returning to the comfort of your train. Dinner on board.
Day 03 : : Agra to Gwalior
Early in the morning visit the Taj Mahal at Sunrise. Return to the train and enjoy a leisurely breakfast as the train passes through the fascinating Chambal Ravines with deep and narrow gorges. Arrive into the royal city of Gwalior, city where many reigning dynasties have left indelible etchings of their rule on all its palaces, temples and monuments. Continue to the Usha Kiran Palace and experience a Royal traditional welcome. Enter this 120-year-old palace, which has played host to the King of England. After lunch visit the magnificent Gwalior Fort with its exquisite temples and palaces, the most spectacular being the Man Mandir Palace. This palace is a masterpiece of Rajput architecture, embellished with exquisite stone carving and latticework. Visit the opulent Jai Vilas Palace. Admire the stupendous Durbar Hall with its crystal staircase, arched ceiling with stun
ning gold leaf work supporting two of the world's largest chandeliers. Dinner will be served in the grand compound of the Jai Vilas Palace before returning to the train.
Day 04 : : Orchha / Khajuraho
Morning after breakfast on board visit Orcha, the bejeweled town of the Bundela Kings. See the impressive temples, palaces and beautiful chhatris (cenotaphs) of Orcha. Return to the train and continue to the temple city of Khajuraho, renowned for its architecture and exquisite sculptures. Built by Chandela Hindu kings between 950 and 1050 AD in a truly inspired burst of creativity, the temples of Khajuraho, a UNESCO World Heritage Site, are superb examples of Indo-Aryan architecture. The highly sensual engravings frequently depict erotic themes. Experience the fascinating Son-et-Lumière spectacle before returning to the train. Continue your journey to the Bandhavgarh National Park. Dinner on board.
Day 05 : : Umaria (Bandhavgarh National Park)
This morning after breakfast on board you arrive in Umaria and drive to the Bandhavgarh National Park. With the highest known density of tigers, it was the former hunting grounds of the Maharaja of Rewa. The grasslands and sal forests of Bandhavgarh supports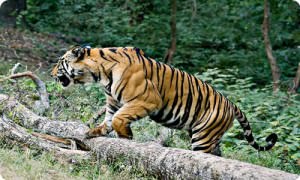 wide variety of animal and bird life including deer, langurs, sloth bears and exotic birds. After lunch at a wildlife resort drive by jeep into the park to spot an elusive tiger. Return to Umaria and board the train. Dinner on board.
Day 06 : : Varanasi
Morning arrival in the holy city of Varanasi, one of the oldest living cities in the world. Varanasi (also known as Kashi or Benaras) has a spiritual legacy of over 3000 years. A place of pilgrimage, this holy city is set on the banks of the sacred river Ganges. Varanasi epitomizes the chaos and colour of India with lively bazaars, exquisite and bright silks, festivals, temples, mosques and palaces. Tour begins with a visit to ancient ruins of Sarnath, where Buddha delivered his first sermon. After lunch, visit the world famous Varanasi Silk Weaving Centre famous for Banarasi silk saris and brocades. Proceed for a scenic cruise on the river Ganges and witness a magical evening aarti ceremony at the ghats (waterside steps) of the holy Ganges. Dinner on board.
Day 07 : : Lucknow
Late morning, after a leisurely breakfast on board, arrive in Lucknow, the City of Nawabs. Explore the dramatic ruins of Imperialistic Lucknow as you visit The Residency, started by Nawab Asaf-ud-Daulla for the British resident in 1800, famous for history of the Mutiny of 1857. Experience the imperialistic splendour an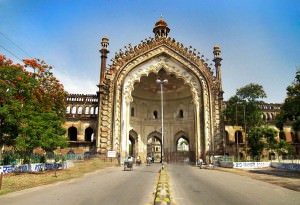 d mystical elegance of the Nawabs of Awadh as you visit their architectural wonders like the famous 'Rumi Darwaza', and the spectacular Bada Imambara with ornamental gateways, corridors and galleries. Following lunch, the afternoon will be at leisure for you to relax or take an optional tour of the markets teeming with life. This evening experience the traditional hospitality with courtesan music & dance and the culinary delights from the Nawabi kitchens. Return to the train for the last leg of your journey.
Day 08 : : Delhi
Morning arrival in Delhi. Breakfast on board. Transfer to hotel for an overnight stay. Rest of the day at leisure perhaps by the pool of your hotel or for any independent exploration.
Day 09 : : Delhi Departure
Morning at your leisure, later as per your flight schedule transfer to New Delhi airport to take your flight for your onward journey.
Pricing
All pricing is based on twin/double -sharing for two-guest traveling together
Price for Deluxe: Double occupancy USD 1040
Price for Junior Suite: Double occupancy USD 1280
Price for Suite: Double occupancy USD 1750
Price for Presidential Suite: Double occupancy USD 2915
The given cost is based on per person per day on twin sharing basis
Additional Service Tax of 2.58 % for all the train tours.
Pricing Inclusions
Package Cost Includes :
Accommodation in a Luxurious Cabin with attached toilets on Single/Twin sharing basis.
All 3 meals including Tea, Coffee, & Mineral water bottles, during your stay on Train..
City sightseeing in a Deluxe Coach.
All entrance fee to the Palaces and Museums during your tour.
Package Cost Does Not Include :
Items of personal Nature like Porterage, Tips, Laundry, Liquor.
All other items and services not mentioned above.
For More Info: http://www.idiscoverindia.com/India-Travel-Packages/Luxury/LT-maharaja-exp-classic-09D.html