Maharajas Express could carry a total of 84 passengers in elegantly appointed cabins which include a lavish presidential suite spanning over an entire carriage. There are 2 restaurants, a lounge bar equipped with library and souvenir shop to indulge the guests during their journeys. A royal journey on board Maharajas Express beckons the new breed of connoisseurs of luxury for unforgettable journey like no other to unravel the essence of "Incredible India".
About Maharaja Express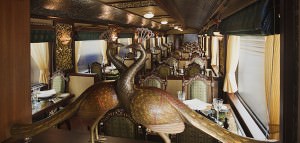 With the itineraries consisting of tasteful blend of heritage, culture and exclusive insider experiences, a journey on board Maharajas Express is one of the most fulfilling rail journeys in the world. From desert kingdom of Rajasthan to the Western Ghats in Maharashtra and from the holy Ghats of Varanasi to the Classical Khajuraho temples, each of the signature journeys offered by Maharajas Express is a treat to undertake.
When it comes to luxury train traveling, Maharajas Express has set the new benchmarks. Equipped with state of the art amenities such as Wi-Fi internet, individual climate control, restaurant and bars, attached bathrooms and electronic safe in each cabin, the opulence of this train's interior is previously unheard of.
Description and Facilities Maharaja Express
The latest jewel in the crown of the Indian luxury trains fleet, Maharajas Express is considered to be Asia's most luxurious train with 5 fascinating pan-Indian journeys named The Indian Splendor, the Heritage of India, Treasures of India, Gems of India and the Indian Panorama. One of the most expensive and luxurious luxury train tours in the world, the salons of the Maharaja Express train draws inspiration from the private saloons of the erstwhile Maharajas of India.
Cabins : Maharajas Express comprises of 14 guest carriages which can accommodate 88 guests on board. There are 20 Deluxe Cabins, 18 Junior Suites, 4 Suites and a plush Presidential Suite offering elegant living comparable to 5 star living.
Some of the amenities that set Maharaja Express apart are the Wi-Fi internet, LCD TVs and direct dial phones in each cabin. Besides, spacious en-suite bathrooms with showers, private butler and 27*7 room service ensure that your journey never fall short of the high standards set by Maharajas Express. The coaches are set with features such as:
Centrally air conditioning
Interiors fusing the classical Indian royalty and modern sophistication
LCD television with satellite connection
Writing Desk
Private Bath
Padded beds
Direct dial phones
Electronic safe
Dining : Seating 42 two passengers at once, two dining cars on board Maharajas Express serve an array of delectable cuisines to the guests. Impeccable interiors and gracious hospitality ensures that you get to dine like a royalty on board Maharajas Express. Besides the Table-d'hôte meals included in the fair guests can also avail of a la carte menu and en-suite private dining.
For the wine connoisseurs and revelers, there an urbane Safari Bar to take care of you in a suave yet laid back ambience with meticulous concoctions of domestic and international brands of wine and liquors.
Mayur Mahal – This in house restaurant is best visited by guests for its classic ambience and range of gourmet cuisines. With seating capacity of 42, the elegance of this restaurant is aptly matched by the service and presentation of an array of world cuisines prepared by expert chefs.
Rang Mahal – This suave restaurant with its serene interiors and glittering furnishing also houses 42 guests at a time and serves an eclectic melange of world cuisines.
Safari Bar : The lounge bar housed within Maharajas Express that guests can visit in order to unwind in a perfectly nonchalant yet suave ambiance after a tiring day of sightseeing and travel. The well stocked bar and an array of tantalizing starters and snacks will surely help lift your spirits. The interiors of the bar are based on the motif of adventure as the name suggests.