Get bowled over by the charm of traditional Indian Ayurveda, yoga and meditation practices in the lush green region of north India. Open yourself to a healthy art of living which originated in the primeval Himalayan foothills. Participate in the age old heritage through this North India's Magical Ayurveda Tour!
Duration:14 Nights / 15 Days
Destinations:Delhi – Haridwar – Rishikesh – Shivpuri – Agra – Jaipur – Delhi
Tour Itinerary
Day 1: Delhi
On arrival at Delhi airport ELand Holidays representatives will receive you and assist you till your check in at your pre- booked hotel. Here we will witness two different worlds co- existing in a composed manner. The old part of the city was designed and planned by the mighty Mughal emperors while the imperial Delhi belongs to British architectural taste. A perfect city for a perfect start to a perfect vacation!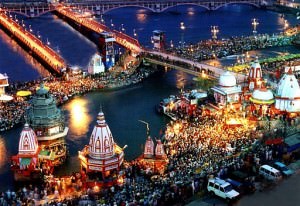 Day 2: Delhi- Haridwar – Rishikesh
In morning, we will leave for railway station to board on Shatabadi Express for our next destination Haridwar – a highly revered Hindu pilgrimage city. The holy river Ganga after traversing a distance of 253 km enters the Indo-Gangetic Plains of North India for the first time at Haridwar. The city is believed to be related with quite a few religious chapters and for this reason it is listed as one of the seven sacred cities of India. On arrival we will check in to the hotel.Later in the afternoon we will proceed for city tour of Rishikesh. Located in the foothills of Himalayas, Rishikesh is a vegetarian and alcohol free city by law. This city of temples is considered to be the gateway to the pious Himalayas. Sightseeing will be followed by magnificent viewing of pious Ashrams scattred all over the city. Some of these are renowned at the global level as chief centre for yoga, meditation and philosophical studies. We will check in at one of the Ashram in Rishikesh. We will be briefed with schedule that we will follow during your stay at Ashram.
Day 3 – day 7: Rejuvenating Rishikesh
For the next five days we will follow a strict schedule of yoga training at the ashram. Surrender yourself to spirituality and give your body, mind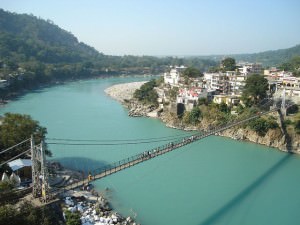 and soul an eternal experience. We can learn the art of a healthy living during these five days. Meditation sessions will be given to forget your tensions of this fast running world.
Day 8: Rishikesh – Shivpuri
Early in the morning, we will drive to Shivpuri – the sacred town in Madhya Pradesh which was formerly known as Sipri. Its current name is in honor to Lord Shiva. The erstwhile summer capital of Scindia rulers of Gwalior, this city is steeped in the regal heritage of its past. Its dense forests were the hunting grounds for great Mughal emperors. On arrival we will check in Nature Camp Resort. We will be given time to adjust to the natural environment which will be followed by schedule updating.
Later in the afternoon we can enjoy a nature walk in the forest reserve near the resort. Later in the night we will enjoy campfire and overnight will be in the tents.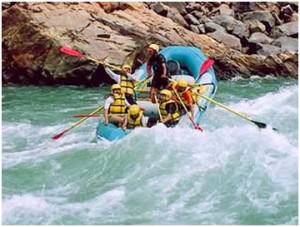 Day 9 : Rafting in Shivpuri
Wake up early in the morning for a Yoga class. It will be followed by recreation of body, mind and soul. Savor on the yogic breakfast as it doubles your energy. Later we will head towards Byasi or Kaudilya for thrilling river rafting up to Shivpuri. On arrival we will read out safety measures, raft strategy, team spirit etc.
Today as we exercise team work hitting one of the most exciting rapids on Ganga we will be thrilled by adventure. Rest of the day will be free for activities. Let the tiredness of whole day vanish with evening meditation and relaxation. At night enjoy the camp fire followed by night stay in the camp.
Day 10: Trekking in Shivpuri
Give tenth day a kick start by waking up fresh quite early in the morning. Today our day will be full of excitement and adventure as we get a chance to trek through thick forests of the region. After driving for one and half hours we will reach Hindolakhal. From here we will start trekking towards Kunjapuri and after an hour passing through amazing route you will reach the pinnacle. Attend the refreshing class amidst the natural milieu for postures, relaxation and meditation. Welcome the sun rising over the great Himalayan peaks. We will drive back to camp/ resort and spend some free time till afternoon. Later part of the day is devoted for wildlife safari in Chilla. Wander in the wilderness observing the jungle rule of animals. We will drive back to the resort for overnight.
Day 11: Shivpuri to Delhi
Wake up early for an interactive morning yoga session. This will help us in assessing the personality change during your course in the resort. A light breakfast will be followed by rafting down to Rishikesh keeping in mind team spirit, leadership qualities and training for rescue. Later in the evening, it's time for us to say goodbye to the holy city and board the train for Delhi. On arrival our representatives will address us to your pre-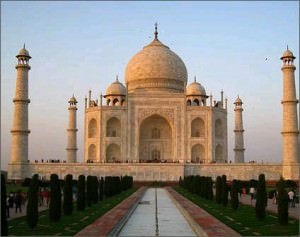 booked hotel. Overnight will be at the hotel.
Day 12: From Delhi to Agra
After early morning breakfast, we will head towards your next destination Agra- the city of love. On your way we will visit Sikandara. The tomb of great Mughal emperor Akbar is located in the district of Sikandara and reflects great Mughal architecture. On arrival in Agra we will be transferred to our pre- booked hotel. Check in and get fresh for the afternoon city tour. First and foremost visit will be paid to one of the Seven Wonders of the World – Taj Mahal. Built by Shah Jahan in loving memory of his third wife Mumtaz Mahal, this pious monument narrates to the world the art of eternal love. Later we will visit Agra Fort and Tomb of Itmad-ud-Daula.
Day 13: From Amicable Agra to Pink City Jaipur
Early in the morning we will head towards the cultural city of Jaipur en route visiting the world heritage city – Fatehpur Sikri, the deserted town of Mughal dynasty. Visit beautifully designed mosques spreading in the air the power of Sufism that will leave you spell bound. Continue your ride to Jaipur.
Jaipur, popularly known as the pink city, was the first planned city of India. Its past is clearly visible through majestic palaces and forts scattered all over the region. Its colorful culture and traditions will surely leave you surprised. On arrival in Jaipur, we will check in at our pre- booked hotel. Relax for day and spend overnight in the hotel.
Day 14: Sight Seeing i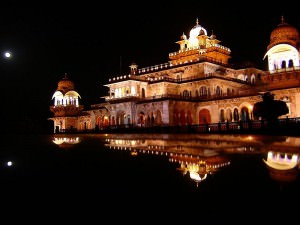 n Jaipur
Get ready for an ultimate experience as we step ahead for the sightseeing tour of Jaipur city. Amer fort- the hot tourist spot in Jaipur will be your first stop. Due to its rough outer appearance, it becomes difficult to figure out its striking interiors. The inside of the fort has a warm and peaceful ambience. It represents the union of both Hindu and Islamic way of decoration. The most intriguing part about this artistic excellence is its illustrative mirror work that holds the attention of the visitors.
Later we will visit City Palace. The interesting fact about this fort is its plan which is the exact replica of the city's plan. A part of the palace is still home to the erstwhile royal families while the rest of it has been converted into museum. Adjacent to City Palace lies Hawa Mahal – an unusual and majestic structure that reminds one of the miraculous structures of Arabian nights. The palace is given the name Hawa Mahal (Palace of Winds) due to excellent air circulation through its 953 small screens which is nothing but a perfect example of Mughal architecture. Enjoy shopping in the colorful Bazaars of the city.
Day 15: From Jaipur to Delhi for Onward destination
After a laid back morning, we will head towards Delhi. On arrival our representatives will transfer you to your pre- booked hotel. Later you will be transferred in time to the international airport to catch flight back to home as this magical tour comes to end.
For More Info: http://india-tour-packages.net/north-india-magical-ayurveda-tour.html