The Royal Rajasthan on Wheels is designed and embroidered in a contemporary royal style to experience the existing regal luxury, taste a slice of royalty and enjoy a royal feast onboard, where every moment is woven together into an everlasting and immemorial experience to be lived and cherished forever. The magic of the splendid journey to the land of kings, majestic forts, incredible palaces, temple towns, diverse cultures and varied landscapes starts from Delhi. Discover the adventurous escapades to the wilds of Ranthambore, visit to the magical destination of Udaipur, perceive the intriguing sagas of forts and palaces of Jaipur, glimpse the art and sculpture of the temple of Khajuraho, on to the spiritual experiences at Varanasi and see the wonder of the world at Agra.
About Royal Palace on Wheels Train
The Royal Palace on Wheels is an upgraded version of world famous Palace on Wheels. After the grand success of Palace on Wheels that is operational from last 25 years, this new train was launched in January 2009. The train as compared to Palace on Wheels is much luxurious and the cabins are more spacious.
Description of Royal Rajasthan on Wheels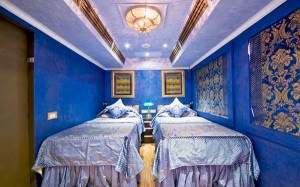 Saloons: The Train has 14 passenger coaches. The 13 coaches have three Deluxe Saloons on each coach and 14th coach has 2 Super Deluxe Saloons. Each deluxe saloon has different color theme of exquisite jewels like Ruby, Pearl and Sapphire.
Super Deluxe Suites offers a spacious living with complete comfort of royal suites. The exquisite silk and velvet bedspreads and draperies take you to an era of royal living. The finely carved wooden furniture adds to your experience. These spacious suites are named after jewels "Emerald" and 'Diamond'.
These saloons offer luxuries with bedding, upholstery, study table and chair to make your stay comfortable
Each coach is named after the famous places of Rajasthan namely Hawa Mahal, Chandra Mahal, Surya Mahal, Moti Mahal, Sukh Mahal, Jal Mahal Padmini Mahal, Kishori Mahal, Phool Mahal, Jogi Mahal, Kumbha Palace, Lalgarh Palace.
The Super Deluxe Coach is called Taj Mahal.
Restaurants : The train has two restaurants namely 'Swaran Mahal' amd 'Sheesh Mahal'. These restaurants offer you mouth watering delicacies ranging from ethnic Rajasthani, Indian, Continental and Chinese Cuisines. The entire restaurant is made of wood and crystal. Amidst aesthetic splendor, feast on your delicious meal with customized hand made cutlery and specially designed crockery.
Bar : Finest wines and international brands of liquor are available on the two restro-lounges.
Spa : After the full day of sight seeing one can have the finest spa services on board. The spa will provide relaxation and wellness solutions on board with personal care products. The spa can offer you various massages and therapies on board.
Facilities in Royal Rajasthan on Wheels
Hospitality : At Royal Rajasthan on Wheels, the gracious hospitality is bound to leave you speechless. Your experience at the regal train will be doubled by the warm welcome and the diligent service. The meticulously trained attendants, your Khidmatgars will serve you round the clock.
Splendid Saloons : The 13 deluxe coaches have been rightly named after the famous palaces of Rajasthan. Namely, Hawa Mahal, Chandra Mahal, Surya Mahal, Moti Mahal, Sukh Mahal, Jal Mahal, Padmini Mahal, Kishori Mahal, Phool Mahal, Jogi Mahal, Kumbha Palace, Umaid Palace, Lalgarh Palace. The Super-Deluxe coach is Taj Mahal.
Other Facilities:-
Royal Rajasthan on Wheels is a no smoking train.
The Royal train is Wi-Fi enabled.*
The windows in the Royal Train are the largest in any train running on tracks in India and have been made especially for enjoying the visual treat on your royal escapade.
The super deluxe saloons have an individual temperature control facility.
Channel music system and public address system.
Get engrossed with a range of board-games and a variety of books on the train.
Various national dailies and magazines are available aboard.
Laundry service is available on board to serve you better.
A separate safe is provided in your cabin to store your valuables.
110/120 V sockets in Train.
Mailbox is provided on board.
Foreign exchange counters are available at hotel counters.
Transport – For a comfortable sightseeing experience, Royal Rajasthan on Wheels will provide modified Volvo buses for the passengers in deluxe saloons and cars for passengers in super-deluxe saloon.